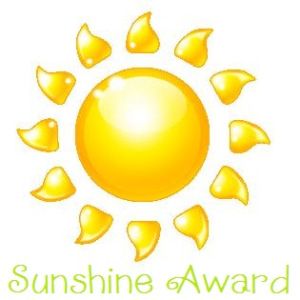 I've been very kindly nominated for the Sunshine Award by the uber lovely Samantha! Check out her blog and answers here!
With most blog tags, there always comes a set of rules, for this particular one, you have to:
Include the Sunshine award logo in this post and in your blog.
Mention and link the person who nominated you
Write 11 facts about yourself.
Answer the 11 questions that have been set by the person who nominated you.
Nominate 11 other bloggers.
Write a new set of 11 questions for them to answer.
So, here's 11 facts about me!:
I'm much more into handbags than shoes (Thanks to my man feet)
I don't tend to watch TV, if I do it's usually through lovefilm/netflix/iplayer
I've been compared to Miranda Hart - I don't know if this is good or not!
Before I started my career in make-up, I did my national diploma in animal management and worked on a farm for two years
I have to plan EVERYTHING! Otherwise it never gets done
I have an obsession with Filofaxes
I would love a Chanel handbag
I'd love to be tattooed by Kat Von D
I'm a messy worker but to me everything is in a particular place and I know where everything is
Roses are my favorite flower. I didn't really want them to be as it just seems so obvious but I think they're truly beautiful.
The questions I've been asked:
1. What is your worst habit?

Probably texting when I'm asleep. Oh yes, I do that! Only once in a blue moon but I've had full blown conversations via text I can't remember the next day!
2. Who knows about your blog?

Not many people to be honest. The make up blogging world can be a weird one if you're not involved with it. It is now on my business cards so I suppose we'll "test the waters!"
3. If you could spend a day as anyone else, who would it be?

Batman. I want a cape.
4. Favourite band/singer?

Oooh, depends what kind of mood I'm in but it ranges from the Backstreet Boys to AC/DC!
5. Do you have any pets?

My Cocker Spaniel Polly is my life<3
6. Favourite food/drink?

I'm addicted to Diet Coke
7. Do you watch any reality tv?

The closest I get to reality tv is watching YouTube
8. What's been your favourite movie of 2013? Or has It not came out yet?

Hands down - Despicable Me 2! I bloody love minions!
9. If you could be an animal for a full day, which animal would you choose?

I want to choose something amazing and exotic but to be honest, I'd probably be a cat, just because I love sleep a bit too much!
10. Do you have a lucky number?

The numbers 1, 7 and 13 always tend to follow me.
11. Favourite thing about winter?

Here's a random one but

probably the robins in the garden, they follow you around and are just beautiful.
My questions for you guys!
When and how did you get into make-up?
Are you at school? What do you study?
Do you work?
What's your favorite way to wind down at the end of the day?
Andriod or Apple?
What's your favorite beauty tip?
Lipgloss or lipstick (and whats you're favourite?)
What will be on your Christmas list this year?
Costa or Starbucks?
What tends to be your favorite beauty brand?
What's the main aim of your blog?
And I tag: