Part 2 is all about make up and looking back at what I've used most, I've realised I've definately favoured a more "nude" look in 2011. I don't do New Years resolutions, but I've vowed to try and inject more colour into my make up routine, I think I've become stuck in a make up rut and I'm determind to get out of it!
That being said, here's what I've been reaching for most: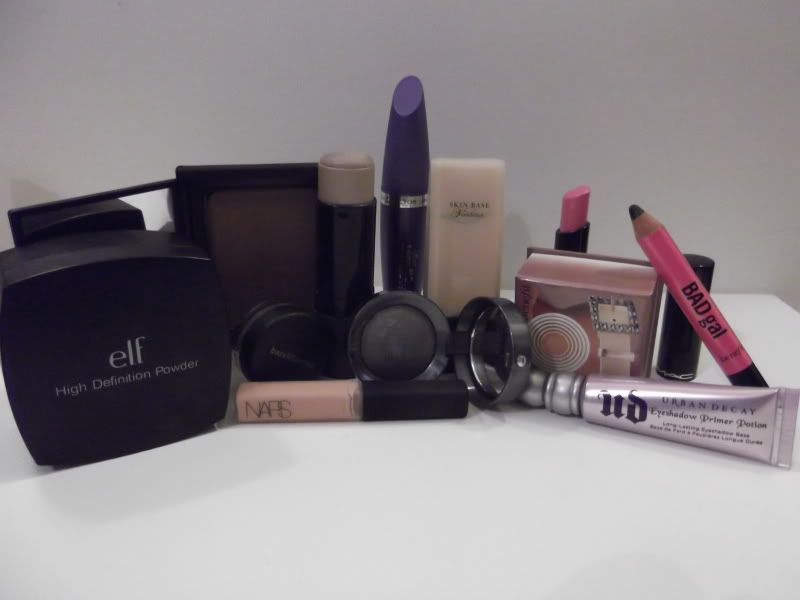 (apologies for the poor lighting in this photo!)
Foundation - Illamasqua Skin Base Foundation
I was so excited for the launch of this foundation as it was being advertised as a version of BB cream, something that at the time, the UK had not been introduced to. After purchasing it, I was disappointed that it didnt seem to have the same traits of a 'traditional' BB cream. It seemed thick and a little difficult to work with but with a little practice, I discovered its a wonderful foundation that will last all day and not flake on me. It does go on quite thick but feels very light (if that makes sense).
Bronzer and Blush -
Benefit Perfect 10 and NARS Laguna
Ok, I had to mention them both! NARS Laguna is a staple in many make up bags across the globe and I find it to be a natural looking bronzer. Benefit Perfect 10 is, well, perfect for those mornings where you need to dash!
Highlighter - NARS Cococabana Multiple
LOVE! I've reached for this product more than any other. The gorgeous pearl effect accentuates my face perfectly.
Setting Powder -
ELF High Defination Powder
£6 for of product! And with the amount of wonderful discount code ELF offer, I'm sure you could purchase this wonderfully light powder at a great discount.
Eyeshadow Primer -
Urban Decay Eyeshadow Primer Potion
I must admit, I've been reluctant to try eyeshadow primers as I have very sensitive eyelids. I found out the hard way I'm allergic to Too Faced' Shadow Insurance. Urban Decay has done me proud though, and as the saying goes, if it ain't broke, don't fix it!
Eyeshadow Pigment -
Bare Minerals Eyeshadow in Nude Beach
A lovely light champagne colour that can be used all over the lid or as a highlight. When used with a primer I can achieve a fair amount of staying power. I love using this for the times I don't want to think too much about my make up!
Eyeshadow -
Boujouis 14
Boujouis eyeshadows are well known for their ease of use and range of colours. I love greys and this shadow has just the right pigment with a flattering sheen.
Eyeliner -
Benefits Bad Gal
This was my first "high-end" eyeliner I bought back in the day and I loved it but it was soon lost and forgotten. I fell im love with MACs powerpoints and teaming them with a pencil brush I was able to achieve the perfect smokey eye, but I fancied a change and remember how much I love Bad Gal. But I couldn't seem to work with this eyeliner when I purchased it again. It annoyed me so much! Then I attempted using it more for a smokey line rather than a defined line. Perfect. And we've been best friends ever since.
Mascara - Max Factor False Lash Effect Fusion Volume and Length
This mascara has lasted me forever and although I do enjoy it, I'm sure there are better mascaras out there. I was as I can remember it was around £11 and for a drugstore mascara, that's just too much for me. Its a great product but I'd enjoy it more if it were cheaper.
Lipstick - MAC Sheen Supreme Lipstick in Sheen Supreme
I really didn't think I would be able to pull off such a bright pink but this lippy has been my go to I want to have a bit more of a bold lip. I loved the original Lady Gaga and Behave Yourself reminds me of it greatly and I find the sheen supreme formula to be a little more creamy with more staying power. Love.
Lipgloss - NARS Striptease
A very simple nude gloss that I find compliments many of my lipsticks. I'm sure duplicates are available for a lot cheaper so that's my mission this year!
Looking back on my choices of 2011, I realise that I could easily find dupes for the products I've reached for the most. Injected more colour and finding more purse friendly options is going to be my task of 2012! Are you setting yourself any make up related goals?
Nail products are up next!